Caught in the Classroom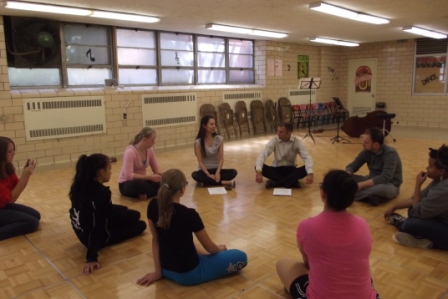 This blog post was written by Anna Cooksey, our Acting Director of Educational Programming.  In this photo from our recent Story Circle Workshop at Washington Park, Anna can be seen all the way to the left documenting stories on a flip cam!  This post describes our current music & storytelling residency (which she helped create) and its moving pieces quite well!  Click here to find out when you can see all of this work come to fruition in Caught: The Woods.
As the November Caught performances begin to draw near, you might think that the musicians have all holed themselves up to practice and rehearse. Make no mistake, the rehearsal time has begun to fill up calendars, but another exciting project was launched amid all the preparation...
This month, Fifth House Ensemble went back to school starting with a residency at Lowell Elementary in Humboldt Park!
There is something extremely exciting about the start-up of any residency like this -- the teacher meetings, the email chains, and the lesson plan musings all come to a fruitful and satisfying exclamation point when the musicians step in to the classroom for the first time! The teachers we are working with are wonderful, committed, and supporters of the arts, making this a meaningful collaboration for everyone involved. This time, though, there were some extra elements that add even more anticipation as we work towards the goal of a final project:
1) The music and storytelling unit culminates in a final project where students will be using ideas and music directly from Caught to tell their own narratives. In a way, they're coming up with their own personal Caught: The Woods at the same time we are!
2) The audiences of Caught will also get to see some of the ideas these amazing students are generating. Materials they (and participants of the story circles) inspire will be used directly in the shows! Talk about community collaboration!
2) Emmy Bean, one of the collaborators for our first show, is on board to demonstrate her puppet artistry and help the students create their own toy theatre scenes! I had a great time trying to make a basic one myself in my apartment...so these kids are going to have a blast.
3) We are being extra diligent in documenting the process of our residency work - meaning our fabulous internet followers will have a bigger window into what exactly goes on when we walk into a school!
4) The strike. It happened. It was a little difficult for everyone on all sides, and I personally became very emotionally involved as it progressed through mid-September, which was when we were scheduled to be in Lowell Elementary with our program. But afterwards, our presence at this school seems even more important to me - the teachers are fighting heart and soul to keep arts programs in their buildings, and we are a part of keeping them there.
Keep following along! The stories we've heard so far are both entertaining and thought-provoking. Don't be afraid to get a little Caught up in what you learn - in the classroom and in the audience!